At the end of last month, Hipoges returned to its annual event, the Global Town Hall, the 2022 edition. The online and streaming event highlighted the remarkable achievements of 2021. Some of these conquests were reaching 5 billion euros in assets under management and a record of growth of around 35%.
Over the course of an hour and a half, representatives of Hipoges, Hugo Velez (General Manager Partner), Claudio Panunzio (Managing Director), Margarida Maia (Chief Services Officer), Juan Ramón Prieto (Chief Operations Officer) and Marta Márquez (Chief Finance Officer), took a very positive assessment of 2021.
Last year, Hipoges continued its ambitious journey and gathered more 13 new customers. We are currently providing corporate services to more than 50 companies and strengthened our team, which already has more than 1.000 employees, divided by the four countries where we operate – Portugal, Spain, Greece, and Italy.
The event was also marked by the announcement of the new targets for 2022. With the ambition to continue our growth and cement our leadership in the market, this year of 2022 the group proposes new challenges such as other lines of business and surpassing the milestones achieved in 2021.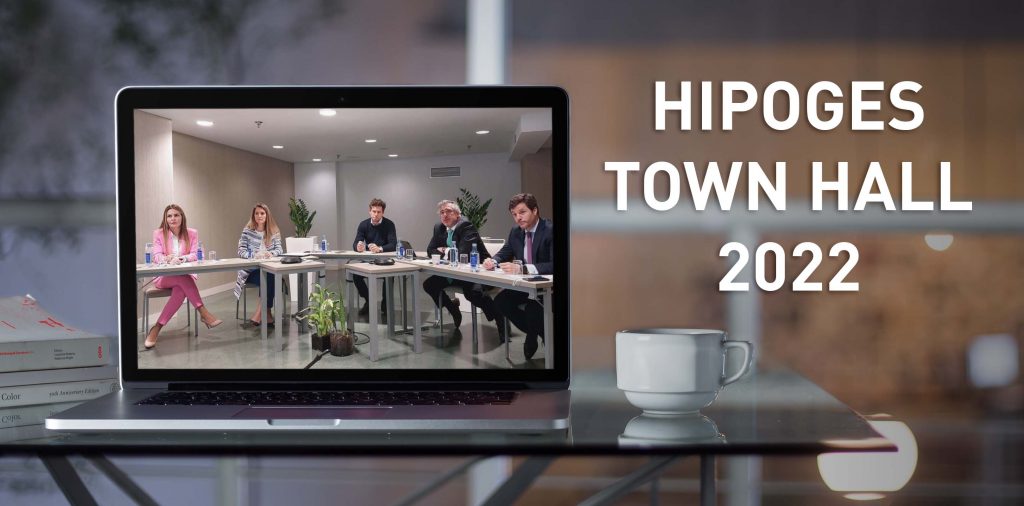 Expansion across Europe and new lines of business: Hipoges Global Town Hall 2022
In a single broadcast for all the people working with the group, which reached a peak audience of 900 people connected at the same time on the platform, it was possible to talk about the future. In addition to the results presented, the event focused on highlighting two very important moments for Hipoges: on one hand, the fact that the group has a new line of business – Rentals Management – with 3.000 assets under management and, on the other hand, having incorporated Domus Residential Services, for the commercialization of promotions and complex assets.
The year 2021 was also very important for the Hipoges group because of the incorporation of the Italian platform Axis S.p.A, which allowed to improve the offer to our clients. This continuous European expansion also signals the transition from the company's designation to only Hipoges, thus dropping Iberia, in order to unite our culture, values and employees.