In a world where technology and digitization are a reality, both personal and professional information, which are dealt with on a daily basis, are more exposed to attacks (or cyberattacks). For this reason, the Hipoges Group saw the need to start developing a system that would manage information security (or ISMS) more in-depth. These systems are developed with the main task of protecting the integrity and privacy of data from clients, employees, suppliers, etc..
With the growing need for security within technology, and from the Compliance and IT departments, Hipoges has further developed its systems and obtained ISO 27001 certification for its commitment to cybersecurity and data protection. The recently obtained certification was issued by the independent company Applus+.
The challenge of cybersecurity and data protection
During the audit conducted by Applus+, in September of this year, our Chief Technology Officer, Tomas Suárez, assures that our ISMS "is satisfactorily complied with and within the established regulations".
This certification was issued by two prestigious organizations. On the one hand, the International Organization for Standardization (ISO) and, on the other hand, the International Electrotechnical Commission (IEC). Similarly, to get it, Hipoges had to go through an audit of its Information Security Management System, a test successfully surpassed.
Data protection of customers, employees, suppliers, and equipment
Data protection is essential for Hipoges. With proper updating and maintenance of the systems, it is necessary to mitigate potential problems in data processing, reinforcing the infrastructure against any type of cyberattack. "Hipoges' commitment to cybersecurity and the protection of its clients' data has for years been a key point in the management of information technologies. We do not see fit a use of technology that is not fully integrated with security itself. This is a clear added value in the management we provide to our clients." says Tomas Suárez.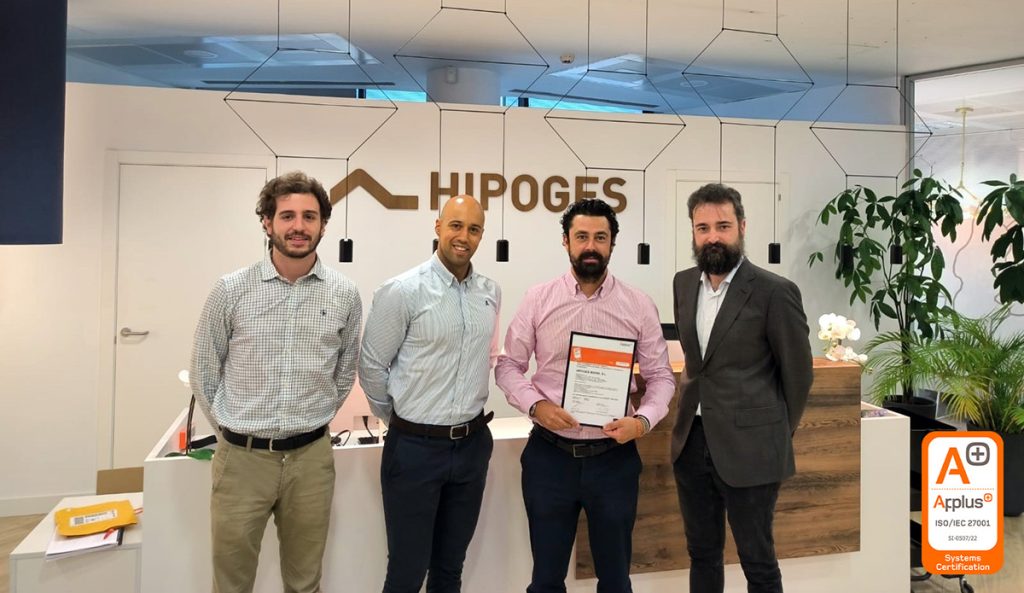 ISO 27001 certification has as responsibilities and good practices the restructuring of the company's IT structure, the adaptation of practices with the reality of the business, and the assessment of cybersecurity gaps and possible risks.
Obtaining this accreditation demonstrates Hipoges' desire to continue to ensure that it operates in accordance with the strictest safety standards, pursuing the purpose of ensuring the integrity of the information of each and every oneof its personnel, equipment and, of course, clients.